Toasting the 4th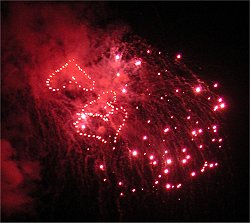 For Independence Day we decided to venture out of our area and go up to Santa Barbara wine country, Los Olivos (where Sideways was filmed) for the early afternoon to do some tastings. I wish we had brought a picnic basket because the sun was bright and the tasting rooms closed at 2 (although we still managed to hit Curtis, Fess Parker and Zaca Mesa wineries first) and lots of other people were lying out and unpacking their lunch. We meanwhile, were buzzed, thirsty and tired. We napped in the car and a group of guys from LA gave us some of their leftover cheese, lol.
After, we headed back down to Santa Barbara to check out the town and catch their half hour fireworks show at Sterns Wharf. This time we were more prepared and unpacked our folding chairs and blanket and grabbed a spot on the beach along the massive crowd. The show was nice, lots of colors which I like and lots of pops and bangs like Raphael likes. They also had ones shaped like stars.

When the show ended and we were fleeing with stampede of people, a fight broke out on the street with what looked to be like a young gang kicking one another in the head. The crowd separated like the red sea and finally the police on bicycles came to break it up. They only caught one kid. The city itself seemed peaceful enough so it was a bit random to see that.
This might be an annual event for us.
Posted by Tara at 12:01 AM PDT
Updated: Thursday, July 5, 2007 2:48 PM PDT