Ashes and Snow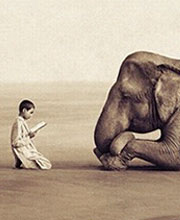 First
The Gates
, a large scale public art project, overtook Central Park. Now, Ashes and Snow, a photography exhibit, literally sits atop the Hudson River on Pier 54 near West 13th Street. It is also the largest temporary exhibition space ever created in Manhattan.
Built on an abandoned waterfront pier, the Nomadic Museum, a 67-foot-wide by 672-foot-long, privately-funded traveling museum is made of 148 stacked steel cargo shipping containers. Designed by Japanese architect Shigeru Ban, the exhibition, Ashes and Snow, consists of portraits taken by Canadian-born artist Gregory Colbert.
Elementary school teacher, Heidi Laudien, 38, said she plans to bring her students to the sight.
?I love the idea of a museum made from recycled materials and I want my kids to see that creative part of the exhibit and how it illustrates the transience of the space,? she said.
The exhibit and the museum will be displayed through June 6 in the 45,000-square-foot temporary structure. Afterwards, it will be dismantled and resurrected in Santa Monica, Calif, then off to the Vatican City in 2006, as it continues on its nomadic adventure.
(Read More)
Link:
www.ashesandsnow.org
Posted by Tara at 9:01 PM PDT
Updated: Wednesday, April 27, 2005 11:48 AM PDT