It's in the bag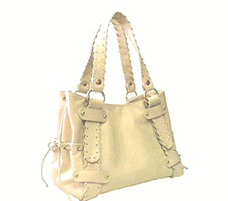 When it comes to contests these last two years, I've been on a roll. My dad must be pulling some strings up there for me, that's the only way I can explain it. I never used to win anything and then I got a free
GenArt
membership last year and a trip to Marco Island when I went to The Tony Danza Show. Now, I just received an email saying "Congratulations!!! You have won the February
BagTrends
Giveaway."
I don't remember entering any contests, but have visited their site before.
My prize is the
Kooba
Sienna Bag in Cream - a limited edition color. The retail value is $595.00! I've never owned a bag that expensive before. In comparison my red winter Coach purse that I love cost $250 on sale at the outlets, which was my most extravagant bag purchase. However I do own a lot of $100 range purses, so I guess I've spent that much before when adding them together. This one is free though. I also needed a bigger summer purse, since my summer bags are more clutches and flimsy things. Yay! Sorry to brag.
The purse is leather and as smooth as butter. The inside lining is a very soft suede in lavender coloring, which feels like a delicate baby blanket. The outside looked whiter under the florescent lights at my office since I was carrying it/modeling it around the halls but when I brought it home it looked more cream like. I was already told by a co-worker that it's "trendy" and I saw an article online with Sienna Miller (thus the design's name) wearing it in the same color.
The attached tag reads "this Kooba bag has been crafted from the finest Italian Cowhide. The difference of grain and slight discolorations are evidence of the naturalness and authenticity of true quality leather."
Now here's a question, is it too early to start wearing it? I think I'd at least have to wait to April when it's more spring time.
Here are some photos of my new bag, oh and the necklace that I mentioned buying
here
.
Posted by Tara at 9:01 PM PST
Updated: Tuesday, April 4, 2006 7:05 PM PDT