Drinks and the Fortune Teller
After sharing a bottle of Cabernet Sauvingon and then sipping down another glass over dinner, my friend Stef and I giddily decided to go get our palms read on Saturday night.
There's a place on the corner of my street that I've passed for the last two years but had never gone in. I often look at the people inside, the many little kids that the palm reader always seems to be watching, plus at the cute black cat that stares at me as I walk by. The woman & co. obviously live behind/above the store front which has a tacky neon palm sign on its window.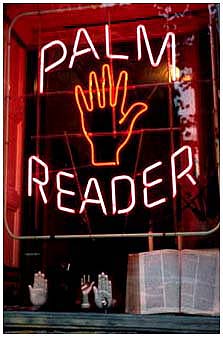 Anyway as I sat down on the leather chair, she took my hand and told me in a soft voice that I am good at making friends with lots of types of people. She also said that I have a long life line and have many past lives (I've often been told by spiritual friends that I'm an old soul, so that wasn't new to hear) and saw me previously as a lawyer, photographer and a teacher (all professions that I've been interested in). Meanwhile she didn't mention to my friend her past lives during her reading that followed. She also said that I'm a creative person and that she sees a lot of paperwork in my future for the month of June (great!). She then asked if I had a creative job and I said yes, I work in PR and write a lot. She then said, still holding my palm that she sees that I'm at peace with the choices I've been making lately and that my aura is very light and lavender right now. Also out of the blue she says that she sees the West Coast as a positive place for me and that someone with an M in their name will be a good influence career wise out there. No bells rang on that, but the idea of moving has been on my mind. She also said the years 2000 and 2003 were difficult years for me--the first year yes the latter no.
My friends' reading had a very opposite take and focused more on relationships, but was also pretty accurate on some points especially over the fact that she'll be making a career change and that the guy that she has been sort of seeing isn't her soul mate. I swear I would have paid the woman to have said that to her, thankfully I didn't have to ;) She also focused more on her energy but didn't mention the colors. I just thought it was interesting, true or not, the different and eerily relevant readings she gave for us.
Posted by Tara at 7:27 AM PDT
Updated: Wednesday, August 2, 2006 8:01 PM PDT