Took the stool right out from under me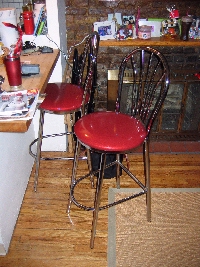 I visited my father's restaurant today for the first time since his passing. He was the original owner and chef since I was a little girl. He had several restaurants at one point but Settembre's Italian Restaurant and Catering was his last and the one that I spent the most time in. My uncle Tony owns it now, but he's been trying to sell it for awhile now, since he was never much of a cook and has a successful limo business to run,
Settembre's Limos
, sensing a family biz name trend? Anyway, the restaurant has switched management and names several times now, it was a Mexican place at first and most recently Rockin Robins--an American grill and ice cream shop. The renters were five months behind in rent so my uncle had to lock the doors on them and is selling the equipment inside to cover expenses.
Going inside wasn't as bad as I thought it would be, since it changed so much. The only thing similar was the catering halls in the back of the place where I'd hide away dancing to the juke box when I was bored. Being outside in the parking lot was hard though. I had flashes of all the times I'd pull up to grab a pie and some of my dad's yummy food to share with friends and all the times I was dropped off there to visit with my dad and the summers I spent there helping out folding pizza boxes, being a soda jerk or waitressing. My heart expected him to come out and join us in the empty lot, wearing his usual apron tied around his waist and a t-shirt covered in flour. Alas, the freezing winds and memories were the only things greeting me today.
The reason for my visit after five years of looking the other way when I drove by, was to pick up two bar stools for my apartment, to replace the ugly bulky ones that came with the place. No one ever really wanted to sit on them, except for when I was cooking them dinner (daughter like father) and had no choice. The stools are perfect, red like almost everything in my apartment (couch, microwave, etc). They are very retro too, which is also very me. Whatcha think?
News:
I set up an interview and press release for my step dad Michael and so far it's resulted in the following article:
Financial planners: Winning the lottery isn't always a dream
. An AM radio channel is interested in speaking with him too, and I'm hoping to hear back from more local CT media as well.
Posted by Tara at 5:38 PM PST
Updated: Monday, February 27, 2006 2:05 PM PST