New York City's Golden Gates
By TaraMetBlog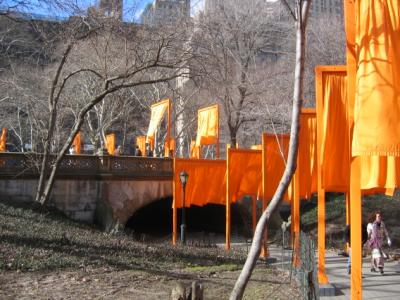 The greatest city on earth has another reason to brag with the unveiling of The Gates, a long-awaited public art project by artists Christo and Jeanne-Claude. But despite its popularity, some visitors feel the $21 million installation is not art at all. Whether a work of art or spectacle, the orange flags strung like a ribbon throughout Central Park are drawing in visitors by the subway load.
According to the Central Park Conservancy, which sells official Gates merchandise at the Park's entrance on 59th Street, 10 to 20 million people are expected to visit the park during the 16 days that The Gates are on display.
"February is the slowest month for tourism in the city and the exhibit has already brought an unexpected number to the park, which is usually dead in the winter," said Central Park Conservancy staff member, Chris Trimbull, 25. She adds that, "I think it's more popular than anyone had realized."
Before The Gates opened, a mere 200,000 visitors were but the day after Mayor Michael Bloomberg kicked off the unfurling of 1,089,882 square feet of orange fabric, attendance had already hit 700,000 people.
Despite temperatures falling below freezing, last Friday thousands of people milled about, strolling beneath streaming saffron fabric along 23 miles of park paths.
Standing 16 feet high, The Gates attracted the young, elderly, tourists and students alike, who took photographs, held hands and observed the temporary display.
New York's AM news station 1010 WINS recently conducted an online web poll asking if The Gates are art or a joke. Out of 1298 respondents, 65% said joke.
(read more)
Also for those who are not able to go to the park, here is a photo album of the pictures that I took, enjoy:

The Gates
New York Magazine:
Curtain Up
Posted by Tara at 9:01 PM PST
Updated: Thursday, July 28, 2005 7:12 AM PDT